We had Girls' Night on Saturday this past week. It was a celebration of getting through the ACT again for Keli, and it was also a visit to the local theater in order to watch our own little thespian performing in Robin Hood...
(Recognize the hat, Jean?) I may have had to get up early on a Saturday morning to take Kel to her testing site, but it was well worth it, don't you think?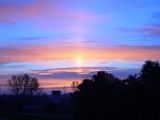 Thanks for the input on the comments section being hard to read/write because of colors. I made some changes. Hope it's better. Smooches.






Playing in my head: Sunrise, Sunset from Fiddler on the Roof