The American Cancer Society Relay For Life represents the hope that those lost to cancer will never be forgotten, that those who face cancer will be supported, and that one day cancer will be eliminated.
Cheryl - if you are stopping by and looking for those photos, are you looking at 2005 or 2004??? :) Just wondering... They are in 2005.
This weekend is flying. Friday went the fastest, as always. I left the house at 7 to take Keli to school and didn't get back here until around 5 pm the first time, and that was in a blinding snowstorm that I had to drive about 10 mph in at some points. We were on the highway driving in a normal snowstorm and then we suddenly hit the wall. It was amazing - I've not seen anything like it. Once we made it home about 5 miles but a long time later, the sky cleared up to a beautiful blue without a cloud in it. It was the strangest thing.
I had writing with Mystical Magical Marge Friday morning, and Japanese currency to order (*gasp*
less
than a week before she leaves!), and Relay business to conduct with the folks and at the bank... Then I picked up Kel and her Boy at school and brought them back to the folks so she could introduce him to G-ma and G-pa (and Uncle Kent as it turned out). From there we picked up some movies, some food (Papa Murphy's take and bake), and then blasted on back through the snow to our place.
More donations are coming in from the letter campaign. Thank you to Jane and Terry and to my Aunt Dot and Uncle Howard! Thanks also to my folks! My total is starting to climb.
I discovered this awful website (which I cannot link to and provide further advertising) where some bozo is extorting money by threatening to murder/butcher a beautiful animal with long aural extensions unless he receives a large sum of money to his paypal account by a specific date in the sixth month of this year. Said bozo is up to over 18 grand in that paypal account. What are people thinking????? And my team will struggle to raise $5500 for cancer research while bozo probably makes his $50G from extortion. Where is the justice in that kind of garbage?
Yesterday we had a small family party for Kel for her birthday. I'm expecting a couple of photos to arrive via e-mail any minute that I can post. Her birthday isn't until the 25th of the month, but hey, it's March and around here, that means Birthday Month... And it's the 13th already! We're behind! :) She'll actually be in Japan for her birthday, so we thought we'd get a few things to her in advance.
I need to get photos of Maudie's beads... I sold some to my Mom yesterday when she was here for the party. She thought they were quite lovely and priced vere reasonably. More info to come...
Also, I have some Power of Purple HOPE bracelets for sale for $1 (remember Lance's yellow bracelets benefitting his Lance Armstrong foundation?) each. The proceeds for these will go to the American Cancer Society Relay For Life (surprised?). I'd be happy to mail as many as anyone would like to whoever would like them. I'd appreciate it if you'd also cover the postage. Please comment or
e-mail
if you are interested. After today I'll add some sort of box link to the sidebar if I can figure something out that is eye-catching.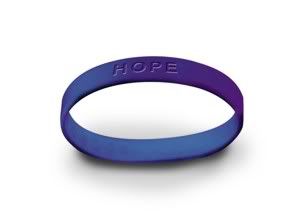 In addition, I have some very cool (trying to link photo so you can see just HOW cool!) Power of Purple ribbon antenna toppers also for sale for $1 each. Proceeds go to the same place. Again, I'm hoping to receive postage, as well. Comment or
e-mail
your requests.
Cool, huh? Needed by all of you supporting my efforts and supporting any survivor's efforts! Needed by survivors, too! :) Pushy, aren't I?


I'll be back with today's mileage. Here are yesterday's stats...
Saturday's miles: 3.5Total so far: 65Still to go for goal: 435
Playing in my head: I'm Not Lisa Why me???? I know the main line of this song and that's it. So it plays over and over and over and over......