Today's (Thursday's) run, done for Kathleen, wife of Vince (who, if you go visit Busy Mom, you'll learn is doing better!), and is a survivor herself!

Sorry I didn't get back to update this until NOW!

Okay - here is the photo for the first WWKW (yes, that's What Was Keri Watching?) contest in ages... For those of you who are newer to the blog, this is a little game we play in the doldrums of winter when I'm stuck inside on the treadmill watching movie after movie and I pull out the camera and tripod, snap a picture while running and anyone who likes, guesses what the movie is I happen to be running with that day. Prizes? Well, usually the prize is the satisfaction of being the first one to guess what the movie is. Someday I'll suprise the winner with something really exciting like a RFL keychain or pin or candybar! Yummy! ;) (still no caramel to be had, Hutch - sorry! But we're watching for them!)

This is a dead giveaway for anyone (maybe) who has seen the film... I haven't purchased it yet, but after hearing the music again and laughing out loud last night, I may just have to. I might make Keith sit down and watch it with me tonight... If you haven't guessed by tomorrow at this time, I'll post another clue photo. I took video so I could get several still shots and not have to interrupt the run.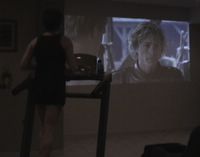 Today's miles:3.4 (for Kimberly who isn't well)
Total so far: 465.78
Still to go for goal: 34.22
Thursday's miles: 4.2
Total so far: 462.38
Still to go for goal: 37.62
Playing in my head: Space Oddity
from our new Best of David Bowie CD