We had a fantastic family get together Saturday (missing a couple of people with Keli in Colorado and Benjamin golfing and Cory working - I think) at my oldest (soon to be even older) brother's house. We headed there for a BBQ and volleyball! If I don't look dressed for volleyball in the photos, it's because I wasn't expecting it. I only heard barbeque in the invitation and I simply decided to dress for an afternoon of lounging about on the deck with a drink in my hand. I can't help it if I had to jump into the middle of things when I heard the siren call of my beautiful nieces!

Here are the grandkids and kids with grandpop...



As you can see, everybody soon got into the act. A few of us took a tumble during the game. That's how competitive it was!



We went from regular Vball rules to "no rules" to "no bouncing off the ground" and adding a "no double hits" back to "no rules". We didn't score the game after the first six or so points as people dropped in and out of the game. And David, who just got the cast taken off his broken hand the day before (well, his now mended hand), used his noggin to return and serve the ball when it was in his area and managed to score several points for our team... yeah Dave!

Yes, we were working hard in the sun to make points - even though we weren't keeping score.



And the between-play commentary across the net was also a little competitive... There was distracting dancing and joking around going on. Certain young ladies have the hardest time serving when they are giggling...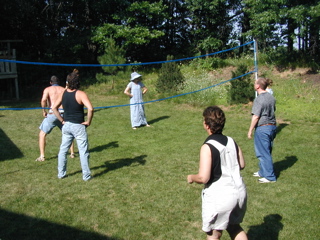 The five of us haven't sat together for a family photo for a long time. Every girl needs some big brothers around when she's growing up.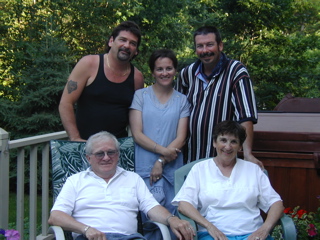 Life is never boring when my family is together.



I spoke with Kel on the phone while I was putting this post together. She called around midnight and asked what I was doing. I said blogging. She asked what I was blogging about and I told her that I was putting together the photos of our time together up at her Uncle's house and she said, "Oh, did you go there for the Fourth of July?"

I said, "No, we were just invited up yesterday for a barbeque and some volleyball."

She was quite put out. Wondered why we couldn't have done that while she was home. "Oh sure, you all get together for fun when I'm not there."

I told her not to worry, there would be pictures for her when she got back. :) Hopefully we can do it again in August before the kids are back in school (she says sheepishly inviting the whole family back up to her brother's house...)